Electronic Stroke Completion Sensor
Will confirm that the end of the stroke has been reached. Installed into hardened mounting block on top of fine adjustment screw on the Model No. 20-29. Triggered via the stroke limit block of the press. Automatically accepts changes in strokes adjustment.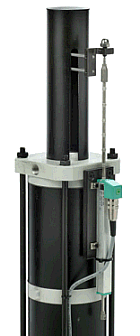 Analog Ram Displacement Sensor
This sensor can be used for interface to third party controls on Direct Acting Presses with 0 to 100mm of stroke. Analog displacement sensor is externally mounted for direct and exact measurement of press ram position.
Part Number: M124xxx
Resolution: 0.01mm / 0.0004″
Maximum Travel Speed: 10 m/s 32 ft/s
Resistance: 5kOhm
Linearity: 0.1% full scale
Maximum Operating Voltage: 50v
Suitable for Press: Nr. 20-29 & 61-76
Parts Presence Sensor
In order to detect parts presence or measurement, a wide variety of sensor types are used including: proximity, photoelectric, ultrasonic, laser, color, etc. Sensor selection is based on the application requirements.
Tie Rod Ram Position Sensor
Used on Pneumatic Presses. Mounted to the cylinder tie rod, or mounted to the head casting (HydroPneumatic) for feedback of ram position to a SCHMIDT or third party control by detecting an internal magnet. Also available over entire range of press stroke. Available in molded cable or quick disconnect versions.
Part Number: P101E26x or 402081.xx
Accuracy Approximately: 1mm / 0.04″
Operating Voltage: 10-30 VDC
Output: PNP or NPN
Load Current Capacity: 100mA
Suitable for Press: Nr. 20-36 or 62-76
Ram Return Button
External button to retract ram, use in conjunction with PRC50.